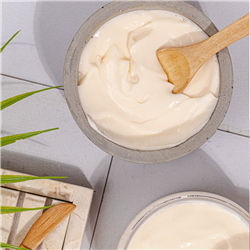 (Enlarge Image)
Directions:
Add Coconut Oil, Carrot Seed Oil, Cupuacu Butter, Vitamin E, Emulsifying Wax, and Stearic Acid to a microwave safe container. Microwave until waxes and butter are melted, or until mixture reaches ~ 170° F
Add Distilled Water to a separate microwave safe container and microwave until ~170° F. Add to melted Oils/Butter/Wax.
Stick blend to emulsify. 1-2 minutes
Place mixture in refrigerator for 20-40 minutes until thickened
Combine Fragrance and Vanilla Color Stabilizer and mix. Let sit for at least 2 minutes
Gently mix thickened lotion and stir in Fragrance/Stabilizer mixture and Preservative
Stick blend gently to fully incorporate. 1-2 minutes
Fill jars with lotion but DO NOT CAP
Let lotion fully cool before capping & labeling accordingly
To Use: Rub into skin as desired.
Ingredient Label:
Water, Coconut Oil, Carrot Seed Oil, Cupuacu Butter, Cetearyl Alcohol, Polysorbate 60, Stearic Acid, Fragrance, Vitamin E, Propylene Glycol (and) Diazolidinyl Urea, Iodopropynyl Butylcarbamate