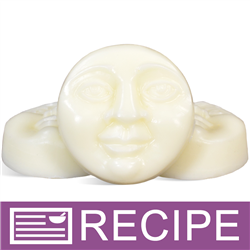 (Enlarge Image)
NOTE: If you are making these products for sale, good manufacturing practices recommend you wear a hairnet, gloves and a mask. We also recommend a clean apron and workspace.
To double boiler or metal pot add tucuma butter and beeswax. Heat on low until melted.
Turn off heat and add shea butter. Let melt naturally. If necessary, place on low heat until butter is melted.
To measuring cup, add babassu oil, Vitamin E and fragrance oil.
Pour oils into wax mixture. If it solidifies when combined, place on low heat to remelt.
Place molds onto a cookie sheet.
When temperature is 150°F or cooler, pour 2 ounces into plastic molds (If cavities are filled to the top, the lotion bars will not fit in the 3 oz. paperboard jars.)
Move molds to freezer for about 20 minutes.
Remove lotion bars from mold and place into paperboard jars. Place lids on jars.
Label product accordingly.
To Use: Rub into dry skin.
Ingredient Label:
Shea Butter, Tucuma Butter, Babassu Oil, Beeswax, Fragrance, Vitamin E.