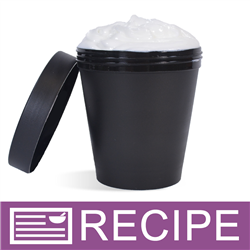 (Enlarge Image)
NOTE: If you are making these products for sale, good manufacturing practices recommend you wear a hairnet, gloves and a mask. We also recommend a clean apron and workspace.
Into a microwave-safe mixing bowl, add the Luxury Hand and Body Cream. Heat in microwave for 90 seconds until lotion thins. Do not overheat.
In a small beaker, mix Vanilla Buttercream Fragrance Oil and Vanilla Color Stabilizer. Let sit for 2 minutes. Add entire fragrance mixture to lotion and mix well.
Add manuka honey extract and stir well.
Add Highlight White Gold Mica Powder and blend until lotion is completely mixed with the powder.
Fill jars with lotion to 6.4 oz. by weight. Divide any leftover product between the four jars.
Let completely cool before applying lids.
Label product accordingly.
To Use:
Apply to skin as often as desired.
Ingredient Label:
Water, Stearic Acid, Propylene Glycol, Isopropyl Palmitate, Cetyl Alcohol, Glycerol Sterate, Lanolin, Polymethoxy Bicyclic Oxazolidine, Mineral Oil & Lanolin Alcohol, Allantoin, Tocopheryl Acetate, Aloe Vera Gel, Methyl Paraben, Urea, Potassium Hydroxide, Chloroxylenol, Propyl Paraben, Sodium Hydroxide, Fragrance,Water (and) Glycerin (and) Honey Extract (and) Sodium Benzoate (and) Citric Acid, Fluorphlogopite, Titanium Dioxide, Tin Oxide.