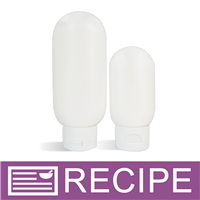 (Enlarge Image)
NOTE: If you are making these products for sale, good manufacturing practices recommend you wear a hairnet, gloves and a mask. We also recommend a clean apron and workspace.
To a large microwave-safe mixing bowl, add Jojoba Oil, Avocado Butter Blend, Emulsifying Wax and Stearic Acid. Place the bowl in the microwave and heat until the waxes have completely melted. Stir mixture to make sure the waxes have all melted.
To other large glass mixing bowl, add water. Heat in microwave for 2 minutes.
Add warm water into the oil/wax mixture and gently stir with a spatula.
Using a hand mixer or stick blender, begin to blend ingredients in bowl.
When mixture begins to thicken, turn off mixer.
In a plastic beaker, mix Fragrance Oil with Vanilla Color Stabilizer. Let sit for a few minutes.
To lotion mixture, add Vitamin E, preservative and the fragrance mixture. Stir with spatula by hand then continue to mix with hand mixer or stick blender until lotion further thickens.
If lotion is too watery, place the glass mixing bowl into the refrigerator to cool down and thicken.
Remove bowl from the refrigerator and whip again with mixer to fluff up product.
Pour into (5) 4 oz. Malibu Bottles. Prop bottles up in a shoe box or other type of container where the bottles can stand up to completely cool before placing caps on the bottles.
Pour the remaining product into (5) 2 oz. Malibu Bottles. If any product remains, top off all the bottles, including the 4 oz bottles.
Let lotion cool completely before applying caps.
Label product accordingly.
To Use
: Apply to skin as often as desired.
10/2019 - Cayenne Caramel Fragrance from original recipe changed to Almond Milk & Sea Salt after original fragrance was discontinued.
Ingredient Label:
Water, Jojoba Oil, Emulsifying Wax, Avocado Butter, Stearic Acid, Vitamin E, Fragrance, Phenoxyethanol, Caprylyl Glycol, Sorbic Acid.