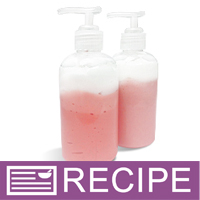 (Enlarge Image)
NOTE: If you are making these products for sale, good manufacturing practices recommend you wear a hairnet, gloves and a mask. We also recommend a clean apron and workspace.
To large glass bowl, add water and set aside.
To metal pan for stove top or double boilter, add Emulsifying Wax, Soybean Oil, Coconut Oil, Macadamia Butter Blend, Shea Butter and Palm Oil.
Heat over stove top until wax and butters have melted.
Place bowl of water into microwave and heat for 2 minutes.
Slowly pour water into wax/oils mixture. With hand mixer or stick blender, mix until lotion starts to thicken and emulsify. Scrape sides of bowl while mixing. If lotion does not thicken, place in refrigerator for 15 minutes to cool.
Add fragrance, vitamin E and preservative and blend until all ingredients are well incorporated.
Continue to mix until lotion becomes light and airy.
Remove 8 oz. (1 cup) of lotion and place in separate bowl. To remaining lotion, add 1/4 tsp. Crimson Red Mica Powder to color. Mix color in well.
Using a cake decorating piping bag, fill each bottle approximately 2/3 full with colored lotion.
Pipe uncolored lotion on top of lotion in bottle (dividing between all bottles).
Once lotion has completely cooled, place pump into bottle. Cut dip tube to length of bottle.
Label product accordingly.
To Use: Rub lotion into skin as desired.
Ingredient Label:
Water, Emulsifying Wax, Soybean Oil, Coconut Oil, Macadamia Butter Blend, Palm Oil, Shea Butter, Fragrance, Vitamin E, Phenoxyethanol, Caprylyl Glycol, Sorbic Acid, Mica, Iron Oxides.