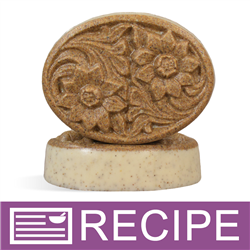 (Enlarge Image)
NOTE: If you are making these products for sale, good manufacturing practices recommend you wear a hairnet, gloves and a mask. We also recommend a clean apron and workspace.
To microwave-safe measuring cup, add 10.5 oz. cut up white soap base. Heat in microwave in 30 second increments until melted.
To small bowl, add 0.10 oz. bentonite clay. Add melted soap to cover and use mini-mixer to blend powder into soap.
Pour soap/clay mixture back into larger bowl and mix well.
Add 0.5 oz. of apricot seed powder and 0.30 oz. of fragrance oil. Stir until well blended.
If soap has cooled to below 130°F, heat for 20 seconds in microwave. Hotter soap will allow the apricot seeds to settle to the bottom and give a more scrubby look to the soap.
Immediately pour soap into 3 mold cavities. Let soap harden completely.
Remove from mold and wrap each bar in plastic wrap.
Repeat above directions to make 3 additional soaps.
Label product accordingly.
To Use: Lather onto wet skin, using scrubby side for dirty hands or rough heels and feet. Rinse off with warm water.
Ingredient Label:
Sorbitol, Coconut Oil, Propylene Glycol, Stearic Acid, Water, Sodium Hydroxide, Glycerin, Honey, Buttermilk, Oatmeal, Calendula Extract, Apricot Seed Powder, Titanium Dioxide, Bentonite Clay, Fragrance.