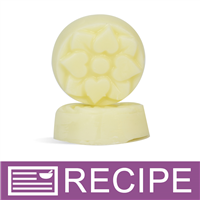 (Enlarge Image)
NOTE: If you are making these products for sale, good manufacturing practices recommend you wear a hairnet, gloves and a mask. We also recommend a clean apron and workspace.
Add Beeswax, Grape Seed Oil and Cocoa Butter to metal pan and heat on low until melted.
Remove from heat and stir in Shea Butter until completely melted.
Add Bliss Fragrance, Bitter Almond Fragrance and Botanical Extract and stir.
When cooled to 145°F, pour into 21 mold cavities filling each to ¼" below the top. (This will allow the lotion bars to fit in the 2 oz. shallow tins.)
Place in freezer for 15 minutes to harden.
Remove from molds and place bars in tins and close.
Label accordingly.
WARNING:
Product will be soft in warmer climates. Care should be taken if left in purse or hot car.
To Use: Rub onto dry skin.
Ingredient Label:
Beeswax, Shea Butter, Grape Seed Oil, Cocoa Butter, Sunflower Oil, Calendula Extract, Sunflower Extract, Aloe Extract, Irish Moss Extract, Marshmallow Extract, Fragrance.