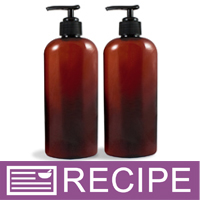 (Enlarge Image)
NOTE: If you are making these products for sale, good manufacturing practices recommend you wear a hairnet, gloves and a mask. We also recommend a clean apron and workspace.
**We used 64 ounces of beer and 8 oz. of water to make this recipe. You can use more water and less beer or equal amounts of both. Can easily be cut in half if batch is too large.
Measure beer and pour into a glass bowl. Let sit out overnight or until beer becomes flat.
Measure beer and water and add to a large glass mixing bowl. Set aside.
To second large microwave-safe measuring cup, add stearic acid, emulsifying wax, soy butter, chamomile butter, babassu oil and macadamia butter. Heat in microwave for 3 minutes or until wax has completely melted.
Heat beer/water mixture for 2 minutes in microwave. Slowly pour water into wax/oil mixture.
Stick blend mix for 1-2 minutes. Set bowl in refrigerator for 30-60 minutes to cool.
Stir mixture, scraping sides with spatula. Stick blend for a few minutes. Lotion should have thickened.
Add Rosemary Oleoresin Extract (ROE), fragrance and preservative to lotion mix and stir with spatula. Then, continue to stick blend until fully incorporated.
Fill bottles to 8 oz. each by weight. If lotion is too thick to pour, scoop lotion into a pastry or zip close bag and pipe the lotion into your bottles. Allow lotion to completely cool.
Trim dip tubes to fit bottles and apply.
Label product accordingly.
To Use:
Apply to skin as often as desired.
Ingredient Label:
Water or Beer, Chamomile Butter Blend, Emulsifying Wax, Babassu Oil, Stearic Acid, Macadamia Butter, Soy Butter, Phenoxyethanol, Caprylyl Glycol, Sorbic Acid, Fragrance, Rosemary Oleoresin Extract.