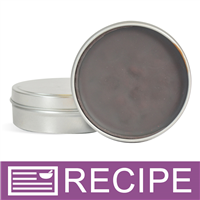 (Enlarge Image)
NOTE: If you are making these products for sale, good manufacturing practices recommend you wear a hairnet, gloves and a mask. We also recommend a clean apron and workspace.
Weigh 8 oz. of beeswax and place in a metal pot for melting. Place on top of stove or hot plate on low heat until completely melted.
Once wax has completely melted, remove from heat.
Add 0.05 oz. (1/2 tsp.) of red wine mica powder and 0.05 oz. (1/2 tsp.) of black mica powder and stir well to completely mix in.
When temperature has cooled down to around 150°F, add fragrance oil and stir.
Continue to let wax cool down to about 130°F. This will keep the mica from falling to the bottom of the tin as it hardens. When the wax begins to harden slightly, stir well.
Place a tin on a scale and tare to zero. Pour 3 oz. wax into each tin. Set aside to completely cool. The top of the candle may look a little cloudy as the wax hardens due to some color settling. It will still be a deep burgundy color.
Place lids on tins when completely hardened and label accordingly.
TO USE: Place tin on an electric candle or coffee warmer. Wax may take about 1 hour to completely melt. Best when used in a smaller room or enclosed area. Remove lid and let sit out in car, bath, etc. to fragrance without melting.
Ingredient Label:
Beeswax, Fragrance, Fluorphlogopite, Iron Oxide, Mica, Titanium Dioxide.