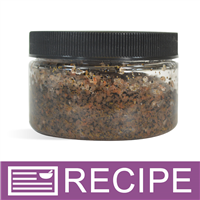 (Enlarge Image)
NOTE: If you are making these products for sale, good manufacturing practices recommend you wear a hairnet, gloves and a mask. We also recommend a clean apron and workspace.
Weigh out Himalayan Sea Salts and place in a large bowl.
Add Black Jojoba Beads and Apricot Seed Powder to the salts.
Mix well with spatula to incorporate all dry ingredients together.
Add Mid Chain Triglycerides Liquid and Hazelnut Oil. Mix well with spatula to evenly mix the oil throughout the product.
Add fragrance oil and vitamin E and mix thoroughly.
Fill each jar to 5.2 oz. by weight. Apply lids to jars.
Label product accordingly.
TO USE: Mix well as product will separate. Add a small amount of scrub to your hand and rub gently into the skin. Rinse off with warm water and pat dry.
Ingredient Label:
Himalayan Sea Salt, Medium Chain Triglycerides, Hazelnut Oil, Jojoba Wax, Iron Oxides, Apricot Seed Powder, Vitamin E, Fragrance.