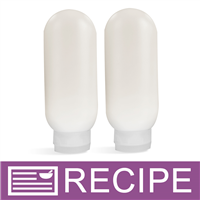 (Enlarge Image)
NOTE: If you are making these products for sale, good manufacturing practices recommend you wear a hairnet, gloves and a mask. We also recommend a clean apron and workspace.
To a large microwave-safe bowl, add 48 oz. of water. Set aside
To second microwave-safe bowl, add Stearic Acid, Emulsifying Wax, Coconut Oil and Apricot Kernel Oil. Heat in microwave until the wax is completely melted.
Add in the Shea Butter and Cocoa Butter. Gently stir to allow butters to soften. If necessary, heat in microwave for a short time to liquify.
Heat water from first step for two minutes. Slowly pour into oils/waxes.
Using a stick blender, begin to blend. Continue blending until mixture starts to thicken. This may take a few minutes. If mixture does not seem to be thickening up, let mixture cool down a little and then start to blend again (can be placed in refrigerator to cool).
Once mixture begins to thicken, turn blender off.
Mix 18 ml Bourbon Vanilla Fragrance Oil with 9 ml Vanilla Color Stabilizer. Mix well and allow mixture to sit for at least 2 minutes but no longer than 15 minutes total.
To lotion, add Vitamin E and fragrance mixture. Continue blending for 1 minute.
Check temperature of lotion to be sure it is under 176°F. Add preservative and blend until fully mixed.
Prop bottles up in a measuring cup, shoebox or other type of container where the bottles can stand up, and place on scale. Fill each bottle to 7.75 oz. If lotion is too thick to pour, use a pastry bag or zip lock bag (cutting off a corner) and pipe lotion into the bottles.
Let lotion cool completely before applying caps.
Label product accordingly.
To Use: Apply to wet skin, rinse off and pat dry.
* Wholesale Supplies Plus is not affiliated or associated with Henri Bendel.
Ingredient Label:
Water, Apricot Kernel Oil, Emulsifying Wax, Coconut Oil, Stearic Acid, Shea Butter, Cocoa Butter, Fragrance Oil, Optiphen Plus, Vitamin E.