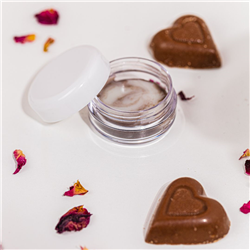 (Enlarge Image)
Ensure your workspace is clean and organized. Read through instructions
before
starting. Premeasure all ingredients.
To one plactic beaker, add 0.7 oz of Lip Balm Base for Pots. Add 0.7 oz of Lip Balm Base for Sticks to the second beaker.
Microwave both beakers for about 30 seconds, or until both bases are completely melted.
In a separate container measure 1/2 ml White Chocolate Fragrance Oil.
Add about half the fragrance to each beaker.
To one beaker, add 1 microscoop Gingerbread Brown Mica Powder and mix well.
Let both beakers cool and thicken slightly before pouring. This will help keep the two colors separated.
With one beaker in each hand, pour both colors at the same time. The colors should meet in the center and stay separated. DO NOT fill to the top - pour to just below the threaded area.
Using a skewer, craft stick, or end of a spoon, gently swirl the two colors together. DO NO over mix.
Repeat until all containers are filled.
Allow lip balms to cool completely.
Apply lids and label. Enjoy!
Ingredient Label:
Ricinus Communis (Castor) Seed Oil (and) Cetearyl Alcohol (and) Lauryl Laurate (and)Olea Europaea (Olive) Fruit Oil (and) Hydrogenated Castor oil (and) Beeswax (and) Copernicia Cerifera (Carnauba)Wax (and) Hydrogenated Soybean Oil (and) Euphorbia Cerifera (Candelilla) Wax, Fragrance, Mica, Iron Oxide