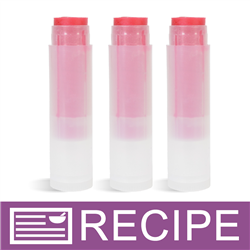 (Enlarge Image)
NOTE: If you are making these products for sale, good manufacturing practices recommend you wear a hairnet, gloves and a mask. We also recommend a clean apron.
In a burner over low heat, or in a double boiler, melt the first 5 ingredients. Melt until completely liquified. Remove from heat.
Add flavor oil and stir well.
Stir in colorant until desired shade is reached.
Pour mixture into a mini beaker or other container with a small pour spout. Carefully pour into lip tubes.
Allow to completely cool before capping.
Label product accordingly.
To Use: Apply to dry lips as often as desired
Ingredient Label:
Olive Oil, Beeswax, Jojoba Seed Oil, Medium Chain Triglycerides, Shea Butter, Flavor, Fluorphlogopite, Titanium Dixoide, Tin Dioxide, Iron Oxide.