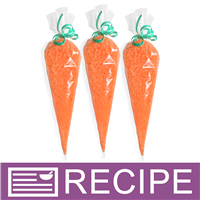 (Enlarge Image)
NOTE: If you are making these products for sale, good manufacturing practices recommend you wear a hairnet, gloves and a mask. We also recommend a clean apron and workspace.
Empty 5# bag of European Salts into a large glass bowl.
Using a plastic dropper, drizzle 12.5 ml of Bunny Farts fragrance all around the top of the salt area. Use a fork or wire whisk to mix well.
Add orange mica powder, 1/4 teaspoon at a time, until desired shade is achieved. Salts will not be completely covered with powder, but will look somewhat variegated.
On a large covered counter area or a cookie sheet covered with wax paper, spread salts out in a single layer to dry.
After a few hours, salts are ready to package.
Place approximately 3/4 cup of bath salts in each cone shaped cello bag. You will have about 1/2 cup of salts left over after filling. This can be divided among the 12 bags.
Tie tops with raffia or any ribbon. You can add a label or make a cute tag to hang on the bag with product information.
To Use: Pour desired amount into warm bath. Soak in bathtub.
Ingredient Label:
Sea Salt, Mica, Titanium Dioxide, Tin Oxide, Iron Oxide, Fragrance.