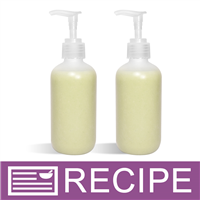 (Enlarge Image)
NOTE: If you are making these products for sale, good manufacturing practices recommend you wear a hairnet, gloves and a mask. We also recommend a clean apron and workspace.
To a microwave safe container, add Liquid Suspension Base. Heat in a microwave for about 20 seconds - just until warm.
Add Shea 50 and mix well.
Add Pumice Powder and carefully blend in using a wire whisk.
Add Bubble Up, preservative and Lemongrass Essential Oil. Gently stir. Lemongrass Essential Oil may change product color over time. This is a natural occurrance.
Add a few drops of color, if desired.
Fill each bottle to about 6.5-6.75 oz. by weight. Product should cool completely before capping bottles.
When ready, trim dip tubes on pumps so they fit the length of the bottle and apply to bottles.
Label product accordingly.
To Use: Apply onto wet hands and gently scrub to remove dirt and grime. Rinse with warm water.
Ingredient Label:
Water, Ammonium Lauryl Sulfate, Glycerin, Disodium Cocamido MIPA Sulfosuccinate, Cocamidopropyl Betaine, Pumice, Propylene Glycol, PEG-50 Shea Butter, Acrylates/C10-30 Alkyl Acrylate Crosspolymer, Disodium DMDM Hydantoin, Lemongrass Essential Oil, Chromium Oxide.