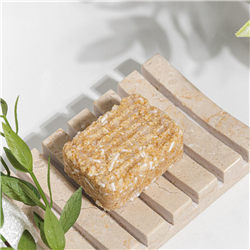 (Enlarge Image)
NOTE: If you are making these products for sale, good manufacturing practices recommend you wear a hairnet, gloves and a mask. We also recommend a clean apron and workspace.
Read through directions and measure out ingredients for first batch.
To a large, deep pan, fill approximately one-third with water. Bring to a boil.
While water is heating up, add 3 oz. SCI Noodles and 1.5 oz. Bubble Up to glass measuring cup. When water starts to boil, place cup into water. If water splashes over the sides of the pan, remove some so it does not get into the measuring cup.
Stir occasionally as the SCI noodles melt into the Bubble Up. It will become a white paste once completely melted. Turn heat down to low.
In a microwave-safe measuring cup, add 0.40 oz. Stearic Acid, 0.65 oz. BTMS-50 and 0.25 oz. Tucuma Butter. Heat in microwave just until wax has melted. Do not overheat!
Carefully pour wax/butter mixture into white paste and stir well.
Stir in 1 oz. SCS Noodles and 1.75 oz. Soy Scrub. Stir well to incorporate.
Add 0.15 oz. preservative and 0.15 oz. fragrance and mix well.
Pour mixture into each mold cavity, filling to the top. Place mold in refrigerator for 30 minutes.
Remove and press down on each cavity to flatten out if mixture is clumpy. Remove from mold and set on cookie sheet covered with a paper towel. Bars willl completely harden in 24-48 hours.
While scrub bars are hardening, make second set of bars.
Package 2 bars in glassine bag. Fold over flap and attach with label, if desired.
To Use: Lather onto wet hands and scrub away dirt and grime. Leave bar in slotted soap dish to dry.
Ingredient Label:
Sodium Cocoyl Isethionate, Cocamidopropyl Betaine, Soy Scrub, Sodium Coco Sulfate, BTMS-50, Stearic Acid, Tucuma Butter, Sodium Lactate, Phenoxyethanol, Caprylyl Glycol.