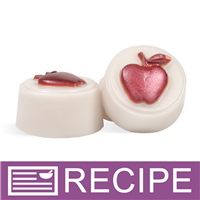 (Enlarge Image)
NOTE: If you are making these products for sale, good manufacturing practices recommend you wear a hairnet, gloves and a mask. We also recommend a clean apron and workspace.
In a metal pan, place 2 oz. each of Yellow Beeswax and Palm Kernel Flakes. Over low heat on stovetop, heat until completely melted.
Remove from heat and stir to make sure everything is completely melted.
Add 12 ml of fragrance oil and mix well.
To a plastic beaker, pour in .50 oz. of the melted wax. Add one micro scoop of Crimson Mica Powder and stir. Working quickly, pour red wax into apple and stem of each tart cavity. If wax hardens, place briefly in microwave to melt.
Place mold in freezer for 5 minutes to harden.
When the wax temperature has cooled to 145°F, fill mold cavities almost to the top. Place mold in freezer until totally hardened. Remove wax tarts from mold and set aside.
Repeat above steps until all air fresheners have been made.
This recipe yielded 27 air fresheners. If desired, package 5 tarts in five bags and add 1 extra tart to two of the bags.
Label product accordingly.
To Use: Place air fresheners in car, drawer, bathroom, closet ,etc. If preferred, place 1-2 tarts in a wax melter.
Caution: Do not leave in hot cars over 80°F as these will soften and melt. Scents should last for about 30 days.
Ingredient Label:
Beeswax, Palm Kernel Oil, Fragrance