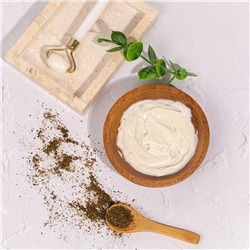 (Enlarge Image)
NOTE: If you are making these products for sale, good manufacturing practices recommend you wear a hairnet, gloves and a mask. We also recommend a clean apron and workspace.
In heat-safe pan, add grapeseed oil and emulsifying wax. Heat on stovetop until melted. Remove from heat.
Add green tea butter and stir until melted.
Add water to a microwave-safe measuring cup. Heat in microwave until almost boiling.
With hand mixer, begin to blend oil and e-wax on low speed.
Gradually add water and continue to blend. Once all water has been added, increase speed to medium. Mixture will be bubbly but this will dissipate as the lotion emulsifies.
Once lotion starts to emulsify, add remaining ingredients (fragrance, vitamin E, preservative). Continue blending until lotion starts to thicken. If necessary, place in refrigerator to cool. This will help thicken the product. Remove and whip until thick.
Cover bowl with plastic wrap and let sit for at least one hour. Lotion will "raise" and fluff up.
Fill nine airless pump bottles to about 2.5 ounces by weight. Let product cool completely before applying tops.
Label product accordingly.
To Use
: Apply to skin as often as desired.
Ingredient Label:
Water, Grape Seed Oil, Green Tea Butter, Emulsifying Wax, Fragrance, Propylene Glycol, Diazolidinyl Urea, Iodopropynyl Butylcarbamate, Vitamin E.