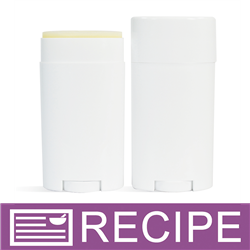 (Enlarge Image)
NOTE: If you are making these products for sale, good manufacturing practices recommend you wear a hairnet, gloves and a mask. We also recommend a clean apron and workspace.
To double boiler or metal pot, add cocoa butter and beeswax. Heat on low until melted.
Turn off heat and add shea butter. Let melt naturally.
Add grape seed oil, fragrance oil and rosemary oleoresin to measuring cup.
Pour oils into wax mixture. (If it solidifies when combined, place on low heat to remelt.)
When temperature has cooled to around 145°F, fill each tube to 2.30 oz. by weight.
Cool completely and then place lids on tubes.
Label product accordingly.
To Use: Rub onto dry skin.
WARNING:
Do not store in hot care or leave out in sun as lotion will soften and melt.
Ingredient Label:
Cocoa Butter, Beeswax, Shea Butter, Grape Seed Oil, Fragrance, Rosemary Oleoresin Extract.