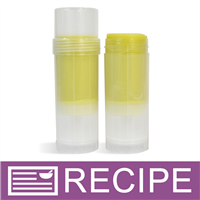 (Enlarge Image)
NOTE: If you are making these products for sale, good manufacturing practices recommend you wear a hairnet, gloves and a mask. We also recommend a clean apron and workspace.
To heat safe pan, add Hemp Oil, Mango Butter and Beeswax. Place pan over heat source and heat on low until the beewax has completely melted. Stir to blend in any small pieces of product.
Remove from heat.
Add Vitamin E and Burmese Woods Fragrance Oil.
Stir well to incorporate all ingredients. Let cool to 150°F.
Place empty tube on scale and tare to zero. Fill to 2.20 oz. by weight. Let cool completely before applying caps.
Label product accordingly.
To Use
: Rub into dry skin as needed.
Ingredient Label:
Hemp Seed Oil, Mango Butter, Beeswax, Fragrance, Vitamin E.