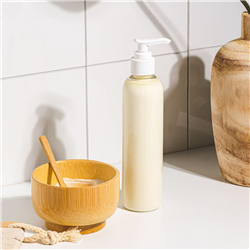 (Enlarge Image)
NOTE: If you are making these products for sale, good manufacturing practices recommend you wear a hairnet, gloves and a mask. We also recommend a clean apron and workspace.
Add Olive Oil, Emulsifying Wax and Stearic Acid to metal pot and heat until liquid. Remove from heat.
Add water to other metal pot and heat.
When oil mixture and water are both around 125ºF, pour both into large measuring cup.
Stick blend in small bursts until mixture is 120ºF.
Add glycerin, preservative, fragrance and Vitamin E to mixture. Stick blend again.
When mixture thickens slightly, pour 7.50 oz. by weight into each bottle.
Allow to cool.
Trim dip tubes and twist tops onto bottles.
Label accordingly.
To Use: Apply to skin as often as desired.
Ingredient Label:
Water, Olive Oil, Emulsifying Wax, Stearic Acid, Glycerin, Fragrance, Vitamin E, Propylene Glycol, Diazolidinyl Urea, Methylparaben, Propylparaben.