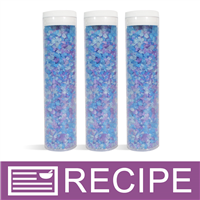 (Enlarge Image)
NOTE: If you are making these products for sale, good manufacturing practices recommend you wear a hairnet, gloves and a mask. We also recommend a clean apron and workspace.
Divide European Spa Salts evenly between 3 mixing bowls, 10.65 oz. each.
Drizzle 0.15 oz. Fragrance Oil into each bowl. Mix well with whisk.
Add (1) 0.15 ml micro size scoop of Blue Powder to first bowl and mix well.
Add (5) 0.15 ml micro size scoops of Purple Powder to second bowl and mix well.
Leave third bowl uncolored.
Spread salts out onto 3 separate jelly roll pans to dry overnight.
Pour all salts into one large mixing bowl and mix together.
Fill each tube to 6.0 oz. by weight and place caps on tubes.
Label accordingly.
WARNING: DO NOT INGEST.

To Use:
Pour desired amount into warm bath. Soak in bath.
Ingredient Label:
Sea Salt, Fragrance, Polyester-3, Manganese Violet, Blue 1 Lake.