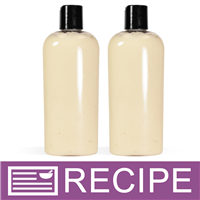 (Enlarge Image)
NOTE: If you are making these products for sale, good manufacturing practices recommend you wear a hairnet, gloves and a mask. We also recommend a clean apron and workspace.
To a large glass mixing bowl, add 50 ounces of water and set aside.
To second large bowl, add Stearic Acid, Emulsifying Wax, Grapeseed and Babassu Oils.
Place bowl in microwave and heat until waxes have completely melted.
To melted wax/oils, add Aloe Butter. Gently stir to allow butter to soften and melt.
In plastic beaker, add Fragrance Oil and Vanilla Color Stabilizer. Let sit for 2 minutes.
Heat water from first step in microwave for two minutes. Add 2 oz. to small bowl and slowly pour remaining water into melted wax/oils.
Using a stick blender or hand mixer, begin to blend ingredients. Continue blending until mixture starts to thicken then turn off mixer.
Add Isopropyl Myristate, fragrance oil mixture and Vitamin E. Continue blending. Product should start to thicken. After a minute or two, turn off mixer.
Add colloidal oatmeal to remaining 2 oz. of water. Blend with wire whisk until smooth.
Check temperature of lotion to be sure it is under 176°F. Add the preservative and the Colloidal Oatmeal mixture. Mix until incorporated.
Fill bottles with 8 oz. of product by weight. If lotion is too thick to pour, fill pastry bag or zip close bag with lotion. Cut the tip off and fill bottles.
Let product cool completely before applying caps.
Label product accordingly.
To Use: Apply to skin as often as needed.
Ingredient Label:
Water, Aloe Butter Blend, Emulsifying Wax, Stearic Acid, Grape Seed Oil, Babassu Oil, Isopropyl Myristate, Fragrance, Colloidal Oatmeal, Phenoxyethanol, Caprylyl Glycol, Sorbic Acid, Vitamin E.