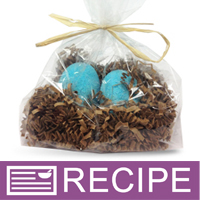 (Enlarge Image)
NOTE: If you are making these products for sale, good manufacturing practices recommend you wear a hairnet, gloves and a mask. We also recommend a clean apron, work area and sanitized equipment.
Set mold on a cookie sheet for stability. This will also allow for an easier clean up. Set aside until ready to use.
To a large mixing bowl, measure 8 oz. baking soda, 4 oz. citric acid and 1 oz. clay. Mix with wire whisk and break up any clumps with gloved hands.
Add 1/4 tsp. of Bath Bomb Blue Powder Color. Mix with wire whisk or fork to blend color into powders.
Mix 9 mls fragrance oil and 9 mls polysorbate 80 together and drizzle into different areas of the mixture. Using a whisk or fork, mix until fragrance has incorporated into dry mixture.
Begin to spray with rubbing alcohol and mix powder using other gloved hand. Spray until mixture stays together when squeezed in palm of hand. If too dry, continue spritzing a little at a time until it holds together.
Once the mixture is the correct consistency, press a few tablespoons of the mix into the mold cavity. Press firmly. Continue until all cavities are filled.
NOTE: To avoid the eggs from having a flat top you will need to place the mold between two objects to suspend it. We used 2 loaf molds but you can also use 2 stacks of books, etc.
Wait 1 hour and remove fizzies from the mold (can also be placed in fridge to harden quicker). Allow to sit for 1 hour before packaging. You will know the fizzies are ready to package because they will be hard.
Repeat recipe 3 more times to make all 32 blue egg bath fizzies.
To package, place brown crinkle paper down into bottom of cello bag. Place 2 eggs into "nest" or as many as desired. Tie with natural raffia.
Label product accordingly.
To Use: Drop bath fizzy into tub of warm water and watch it fizz.
Ingredient Label:
Baking Soda, Citric Acid, Kaolin, Blue 1 Lake, Fragrance, Polysorbate 80.