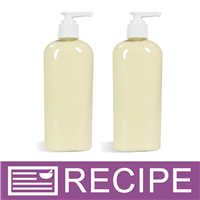 (Enlarge Image)
NOTE: If you are making these products for sale, good manufacturing practices recommend you wear a hairnet, gloves and a mask. We also recommend a clean apron and workspace.
To a large microwave-safe bowl, add 50 oz.of water. Set aside.
To second large bowl, add emulsifying wax, stearic acid, argan butter, camelina and sesame oil.
Heat in microwave until waxes have completely melted. Stir.
Heat water for 2 minutes. Add Rose Water Hydrosol and stir.
Slowly add water to melted wax/oils. Using stick blender or hand mixer, begin to blend. Blend on low for a few minutes, then blend on a higher speed until lotion starts to thicken.
Add Isopropyl Myristate, Geranium Essential Oil and Rosemary Oleoresin Extract (ROE). Blend to incorporate additives.
Once additves are mixed in well, turn off mixer. Check temperature of lotion to be sure it is below 176°F. Add the preservative and blend to mix in.
Fill bottles to 7.75 oz. each. Product will thicken as it cools. Leave pumps off until lotion has cooled completely.
Trim dip tubes with scissors to fit bottles and place in lotion.
Label product accordingly.
To Use
: Apply to skin as often as desired.
Ingredient Label:
Water, Argan Butter, Emulsifying Wax, Stearic Acid, Camelina Oil, Sesame Oil, Rose Water, Isopropyl Myristate, Phenoxyethanol, Caprylyl Glycol, Sorbic Acid, Geranium Essential, Rosemary Oleoresin.