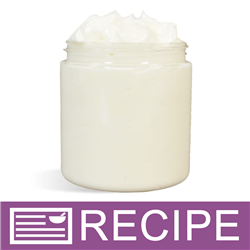 (Enlarge Image)
NOTE: If you are making these products for sale, good manufacturing practices recommend you wear a hairnet, gloves and a mask. We also recommend a clean apron and workspace.
To 32 oz. microwave-safe measuring cup, add water. Set aside.
To larger microwave-safe measuring cup, add emulsifying wax, stearic acid, meadowfoam seed oil, shorea and tucuma butters. Heat in microwave until waxes have completely melted.
Heat water from Step 1 for two minutes in microwave. Slowly pour into hot oil/wax mixture.
Using a hand mixer, begin to blend for 5 minutes. Place bowl in refrigerator for 30-45 minutes until it starts to harden around the edges.
Whip until product thickens, scraping sides with spatula. Add Vitamin E, fragrance and preservative. Whip for an additional 5 minutes.
Fill jars to approximately 7 oz. each by weight. Divide any extra lotion between the jars. Apply lids.
Label product accordingly.
To Use:
Apply to skin as often as desired.
Ingredient Label:
Water, Shorea Butter, Tucuma Butter, Meadowfoam Seed Oil, Emulsifying Wax, Stearic Acid, Fragrance, Phenoxyethanol, Caprylyl Glycol, Sorbic Acid, Vitamin E.