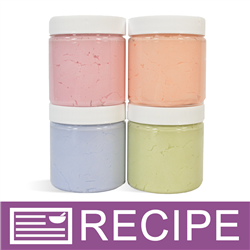 (Enlarge Image)
NOTE: If you are making these products for sale, good manufacturing practices recommend you wear a hairnet, gloves and a mask. We also recommend a clean apron and workspace.
Combine 4 oz. shower gel, 0.20 oz. bubble up, 1.50 ml preservative, 3 ml fragrance and micro scoops of your first color in a mixing bowl. Stir well until color is combined.
Add 4 oz. cornstarch and 2 oz. arrowroot powder. Using gloved hands, knead until there are no clumps remaining and color is mixed in well.
Place the dough mixture into two 4 oz. jars and twist on lids.
Repeat with the remaining three colors.
Package as desired: individual jars, a set of two colors or all four colors in a set.
Label product accordingly.
To Use: Mold and form into any shape you can imagine. When playtime is over, crumble under running water for bubbles or lather onto skin, as you would soap.
Ingredient Label:
Cornstarch, Water, Arrowroot Powder, Sodium Laureth Sulfate, Sodium Lauryl Sulfate, Cocamide MEA, Cocamidopropyl Betaine, Methylparaben, Methylchloroisothiazolinone, Methylisothiazolinone, Citric Acid, Sodium Chloride, Fragrance, Phenoxyethanol, Caprylyl Glycol, Sorbic Acid, Red 33, Blue 1, Green 5, Yellow 5.