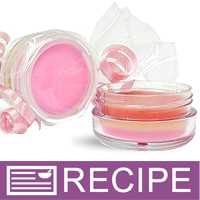 (Enlarge Image)
NOTE: If you are making these products for sale, good manufacturing practices recommend you wear a hairnet, gloves and a mask. We also recommend a clean apron and workspace.
In a plastic beaker, add 0.95 oz. Lip Balm Base for Sticks and 0.95 oz. Lip Balm Base for Pots. Place in microwave and heat until melted. Base can also be melted in double boiler.
Add 2 ml Sugared Stawberry Flavor Oil and a partial micro scoop of Bath Bomb Red Powder Color. Mix until color is dissolved. Divide lip balm among the 10 lip balm pots. If lip balm starts to harden, place in microwave for a few seconds to liquify. Allow to set up.
Repeat Step 1-2 and use Pink Lemonade Flavor Oil with Bath Bomb Yellow Dye Powder
Repeat Step 1-2, again, and use Double Bubble Gum Flavor Oil with Neon Hot Pink Kisses Powder.
You can mix up the layers in any order you wish. This recipe has lots of room for play.
Package Idea: Place 1 lip pot into cello bag. Place half way down into bag. For the closed end, snip off end so bag will be open on either side. Tie each end close to pot with ribbon so it looks like candy.
Label product accordingly.
To Use: Apply to lips as often as desired.
Ingredient Label:
Castor Oil, Olive Oil, Beeswax, Carnauba Wax, Soybean Oil, Candelilla Wax, Flavor, Red 40 Lake, Polyester-3, Yellow 7, Red 28.