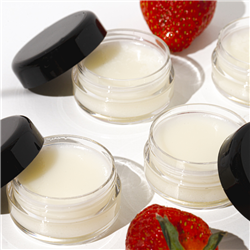 (Enlarge Image)
NOTE: If you are making these products for sale, good manufacturing practices recommend you wear a hairnet, gloves and a mask. We also recommend a clean apron and workspace.
To a glass measuring cup, add Argan Butter Blend. .
Microwave for 30 seconds. If not completely melted, put in for additional 10-20 seconds. Remove and stir until small pieces are completely dissolved.
Slowly add white sugar. Stir well.
Add 5 ml of Sugared Strawberry Flavor Oil and mix well.
Let mixture sit for few minutes until it starts to thicken slightly. This will help prevent sugar from settling to bottom.
Stir mixture briefly before pouring into the pots to keep the sugar suspended throughout. Each jar should hold approximately 1/2 oz. of product.
Let product cool completely before applying lids.
Label accordingly.
To Use: Gently rub lip scrub over lips to help remove dead skin. Rinse off with warm water and following with a moisturizing lip balm.
Ingredient Label:
Sugar, Argan Butter, Fragrance.