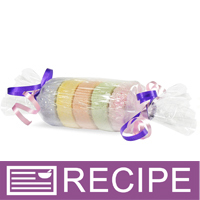 (Enlarge Image)
NOTE:
If you are making these products for sale, good manufacturing practices recommend you wear a hairnet, gloves and a mask. We also recommend a clean apron.
To mixing bowl, add baking soda, citric acid and arrowroot powder. Mix with wire whisk until the powder is clump-free.
To plastic beaker, add fragrance oil. Drizzle fragrance onto powders while mixing.
Divide mixture evenly between five bowls, approx. 10 oz. in each bowl.
Add bath bomb yellow color and bath bomb blue color to first bowl. To other bowls, add each other color, one color per bowl. Mix each bowl well. Cover four bowls and set aside.
To one bowl, spray powders with rubbing alcohol and mix with gloved hands until the mixture holds together when squeezed.
Pack mixture into mold cavities and allow fizzies to harden. Once hard, remove from mold and set aside in dry location.
Repeat with other colors.
Place one fizzy of each color into shrink wrap bag. Position fizzies in middle of bag and tie both ends with ribbon. Using hair dryer, shrink the middle area around the "sweetie tarts" until it tightens up. Cut the very end of the bag that is sealed.
Labeling accordingly.
To Use:
Drop one fizzy into bath and soak.
Ingredient Label:
Baking Soda, Citric Acid, Arrowroot Powder, Fragrance, Mica, Iron Oxide, Fluorphlogopite, Titanium Dioxide, Tin Dioxide, Yellow 5 Lake, Blue 1 Lake.