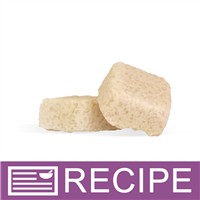 (Enlarge Image)
NOTE: If you are making these products for sale, good manufacturing practices recommend you wear a hairnet, gloves and a mask. We also recommend a clean apron and workspace..
Into a microwave-safe mixing bowl, add 16 oz. of cut up soap. Heat in microwave in 30 second intervals until melted.
Add 16 oz. of Foaming Bath Whip and place into the melted soap. Place in the microwave for an additional 20 seconds. Stir until completely melted and smooth.
Add 32 oz. of the European Spa Salts to the soap mixture and blend with large mixing spoon.
Add 2 oz. of the Vanilla Almond FO and mix thoroughly.
Scoop the mixture into the Brownie Bite mold with a spoon and pack it down well. There will be enough to fill the mold twice. Cover remaining mixture with plastic wrap until ready to use.
Let them dry for 1-2 hrs. then unmold and place them on a cookie sheet to finish setting up.
Using remaining mixture, fill mold again. If mixture has hardened, place in the microwave for another 15-20 seconds to soften.
When unmolded, allow scrubs to air dry for 24-48 hrs.
We recommend wrapping each individual cube with plastic wrap. Place 6 cubes in an organza bag, if desired.
Label product accordingly.
To Use: Rub salt cube onto wet skin working up a lather. Pay particular attention to heals and elbows. Rinse with warm water.
Ingredient Label:
Spa Salts, Propylene Glycol, Sorbitol, Glycerin, Sodium Laureth Sulfate, Sodium Stearate, Sodium Myristate, Sodium Cocoyl Isethionate, Water, Disodium Lauryl Sulfosuccinate, Stearic Acid, Sodium Chloride, Diazolidinyl Urea, Iodopropynyl Butylcarbamate, Titanium Dioxide, Fragrance.