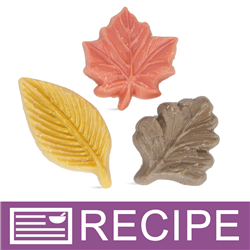 (Enlarge Image)
NOTE: If you are making these products for sale, good manufacturing practices recommend you wear a hairnet, gloves and a mask. We also recommend a clean apron and workspace.
To metal pot, add 2 oz. beeswax and 1 oz. palm kernel flakes. Heat on low heat until melted.
Remove from heat and place on pot holder or towel.
Add coral mica powder and 0.50 oz. fragrance oil and stir well.
When wax has cooled to 150°F, pour into eight of the leaf cavities, filling half way.
Remove from mold and set aside.
Repeat Steps 1-5, adding brown mica powder to wax along with the fragrance oil.
Repeat Steps 1-5, adding dark gold mica along with the fragrance oil.
Place two of each colored leaf into organza bags.
Label product accordingly.
To Use: Place 1-2 melts into wax burner and allow to completely melt.
Ingredient Label:
Beeswax, Palm Kernel Oil, Fragrance, Mica, Titanium Dioxide, Iron Oxide, Fluorphlogopite.