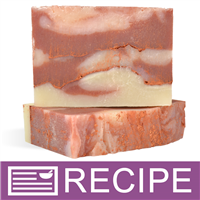 (Enlarge Image)
NOTE: This project and these instructions have been written for someone who has experience making soap and knows the potential dangers due to working with sodium hydroxide. It will not outline safety methods of working with dangerous chemicals, it is simply a soap recipe for advanced soapmakers
In separate containers, measure by weight your water and your lye. Gradually stir in small amounts of the lye in the water until the lye is dissolved completely. Set aside in a safe place and allow to cool.
To a large microwave-safe mixing bowl, add all the oils and butters. Warm oils in microwave or over low heat until melted. Set aside to cool.
Pour 0.5 oz. of the oils in a beaker.
Add 1/2 tsp. of Bath Bomb Red Powder Color to the beaker with the reserved 0.5 oz. oils and stir until smooth/no clumps. Set aside.
Check temperatures of the lye water and then of the oil/butter mixture. When both are about the same temperature-approximately 120°F, you are ready to mix them together.
Carefully stick blend until the soap reaches a light trace.
By hand, using a spatula, add the Apple Jack n' Peel Fragrance oil and mix in well.
Separate the mixture into 2 plastic containers, approximately 22 oz. each.
Add red color mixture to one container. Using a spatula, mix the color in well.
Pour the first layer of white batter into the mold followed by a red layer (the layers do not have to be completely even).
Evenly sprinkle a layer of the copper sparkle mica powder. Then repeat these steps until all soap is poured. Texture the top of the soap as desired.
Sprinkle a thin layer of the copper mica on the top for extra glimmer.
Carefully insulate the sides of the loaf with towels. After it has set up some, lightly cover the top as well.
Unmold after 24 hours. Cut into 1 inch slices. Allow the soap to cure for 4-6 weeks before using.
Package and label accordingly.
To Use: Lather onto wet skin and rinse. Avoid eye area.
Ingredient Label:
Water, Coconut Oil, Sweet Almond Oil, Palm Oil, Shea Butter, Sodium Hydroxide, Avocado Oil, Castor Seed Oil, Cocoa Seed Butter, Fragrance, Mica, Oxides, Red 40 Lake.