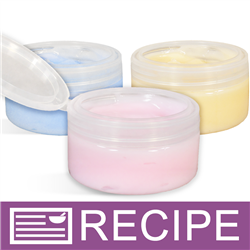 (Enlarge Image)
NOTE: If you are making these products for sale, good manufacturing practices recommend you wear a hairnet, gloves and a mask. We also recommend a clean apron, workspace and sanitized equipment.
To a large microwave-safe measuring cup, add 32 oz. Basic Lotion Base. Heat in microwave for 60 seconds. Stir.
Add 0.50 oz. Backyard Lemon Tree Fragrance Oil and 3-4 drops of Stained Glass Ocean Blue liquid dye.* Stir well to incorporate.
Fill 4 jars evenly with lotion. Once completely cooled, apply lids to jars.
Label product accordingly
*To make pink Weekender Hand Lotion, use 0.50 oz. Dragon Fruit Fragrance Oil and add 3-4 drops Stained Glass Santa Red liquid dye (add Red 33, Red 40 to ingredient list in place of Blue 1).
*To make orange Weekender Hand Lotion, use 0.50 oz. Cactus Water & Mango Fragrance Oil and add 6-8 drops Stained Glass Citrus Orange liquid dye (add Orange 4 to ingredient list in place of Red 33, Red 40).
To Use: Apply lotion to skin as desired.
Ingredient Label:
Water, Cetearyl Alcohol, Glyceryl Stearate, Polysorbate-60, Stearyl Alcohol, Sunflower Oil, Allantoin, Propylene Glycol, Isopropyl Palmitate, Petrolatum, Diazolidinyl Urea, Methylparaben, Propylparaben, BHT, Carbomer, Benzophenone-4, Stearic Acid, Fragrance, Blue 1.