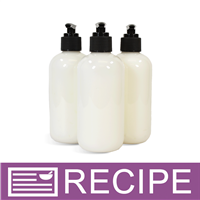 (Enlarge Image)
NOTE: If you are making these products for sale, good manufacturing practices recommend you wear a hairnet, gloves and a mask. We also recommend a clean apron and workspace.
Pour 64 oz. of Basic Lotion Base into large measuring cup.
Microwave in 1 minute increments, stirring in between, until lotion is 130ºF. (Do not exceed 140ºF).
Add fragrance and stir well.
Using a funnel, pour half of the heated lotion back into the gallon jug. Screw cap back onto gallon jug and shake well until thoroughly incorporated. Repeat, adding the remaining heated lotion. The warm lotion will blend with the cold lotion still in the jug. You now have a full gallon of lotion fragranced and colored.
Insert gallon pump and pump lotion into each bottle. Fill bottles to 8 oz. by weight. Any remaining product can be divided equally among the bottles.
Allow to cool completely.
Trim dip tubes to fit bottles and twist on pump tops.
Label accordingly.
To Use:
Massage onto skin as often as needed.
Ingredient Label:
Water, Glyceryl Stearate, Cetearyl Alcohol, Proysorbate-60, Stearyl Alcohol, Sunflower Oil, Allantoin, Propylene Glycol, Isopropyl Palmitate, Petrolatum, Diazolidinyl Urea, Methylparaben, Propylparaben, BHT, Disodium EDTA, Carbomer, Benzophenone-4, Stearic Acid, Fragrance.