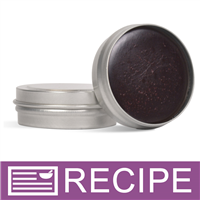 (Enlarge Image)
NOTE: If you are making these products for sale, good manufacturing practices recommend you wear a hairnet, gloves and a mask. We also recommend a clean apron and workspace.
To microwave-safe container, add lip balm base. Heat in microwave in 20 second intervals until product has liquified.
Add 6 ml of Cherry Kiss Sweetened Flavor Oil and 1 Tablespoon of Alkanet Root Powder. Stir to blend in ingredients.
Pour into metal tins and allow to cool. Apply lids.
If desired, apply shrink wrap bands using a hair dryer to make product tamper-proof.
Label product accordingly.
To Use: Apply to lips as desired.
Ingredient Label:
Castor Oil, Beeswax, Carnauba Wax, Alkanet Root Powder, Flavor.