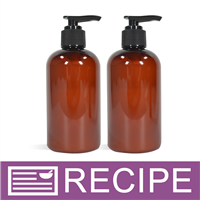 (Enlarge Image)
NOTE: If you are making these products for sale, good manufacturing practices recommend you wear a hairnet, gloves and a mask. We also recommend a clean apron and workspace.
In a large microwave-safe bowl, add Jojoba Oil, Safflower Oil, Coconut Oil, Emulsifying Wax and Stearic Acid. Heat in microwave until the waxes have completely melted.
Add in Kokum Butter and Avocado Butter. The heat from the hot oil/wax mixture will help to soften the butters as they are gently stirred in.
Measure 23.30 oz. of Distilled Water in a large glass bowl and place in microwave. Heat just until water is warm to the touch.
Slowly pour the water into the melted oils/wax. Using either a stick blender or hand mixer, begin to blend.
When the lotion starts to thicken, turn off mixer.
Add Glycerin, Vitamin E, preservative and fragrance oil. Mix until ingredients are incorporated.
Fill each bottle to approximately 7.6 oz. by weight.
Let lotion cool completely. It will also thicken further as it cools. Trim the dip tube on the pumps to fit the bottles and insert into the bottle.
Label accordingly.
To Use:
Apply to skin as desired.
Ingredient Label:
Water, Safflower Oil, Emulsifying Wax, Fragrance, Jojoba Oil, Kokum Butter, Coconut Oil, Stearic Acid, Glycerin, Avocado Butter, Germaben II, Vitamin E.