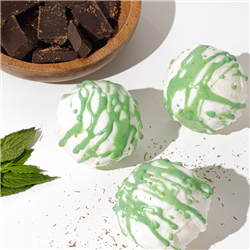 (Enlarge Image)
NOTE: If you are making these products for sale, good manufacturing practices recommend you wear a hairnet, gloves and a mask. We also recommend a clean apron and workspace.
Mix Baking Soda, Citric Acid, Arrowroot Powder and Cornstarch together in a bowl or stand mixer, making sure to break up any clumps and lumps with a sifter or wire whisk.
Melt Macadamia Butter, Cocoa Butter and Grapeseed Oil together in microwave for 30 second spurts until completely melted. Set aside and let cool for a few minutes.
In a plastic beaker, measure the Fragrance and Vanilla Color Stabilizer. Mix well and let sit for 2 minutes.
In a small container measure out the Water and Alcohol and mix together.
Add both the fragrance and water mixtures to the melted oils and butters and blend.
With stand mixer on low, pour the liquids in all at once and turn mixer up one notch, incorporating the liquid quickly to stop the fizzing action. If you do not have a stand mixer, pour half of liquid in the bowl and whisk vigorously with a wire whisk. Add other half and whisk it in.
To see if the mixture is ready to mold, scoop some mixture in your hand and it should keep a shape when squeezed.
Take a two piece bath bomb mold and fill both sides, mounding extra mixture in the middle.
Press the two sides together. Remove the top part of the mold and brush away any excess mixture around the edges. Place top back on mold and set on piece of bubble wrap.
Repeat with remaining mixture until all bath bombs are made. Let bath bombs dry overnight. Carefully remove from molds and set on wax paper.
Melt 6-8 oz. White Soap in a microwave-safe dish on low. Heat in 30 second bursts until completely melted.
Using a spoon, pour a teaspoon of melted soap over each bath fizzy. Repeat until they are all coated.
Melt an additional 2 oz. white soap and add one scoop of Bath Bomb Yellow and one scoop of Bath Bomb Blue powder color. Mix well. If darker color is desired, add one additional scoop of each.
Take and dip a fork into the green melted soap and drizzle over several bath fizzies at a time.
Let them set until dry. Gently lift from wax paper and remove any excess soap from each fizzy.
Package as desired.
Label product accordingly. Be sure to add "DO NOT EAT" to label along with a caution that product can make bathtub slippery.
To Use: Add 1-2 bath truffles to tub of warm water and let product slowly melt.
Ingredient Label:
Baking Soda, Citric Acid, Corn Starch, Arrowroot Powder, Fragrance, Grape Seed Oil, Macadamia Butter, Cocoa Butter, Water, Isopropyl Alcohol, Sorbitol, Propylene Glycol, Sodium Laureth Sulfate, Stearic Acid, Lauric Acid, Water, Sodium Hydroxide, Glycerin, Titanium Dioxide, Yellow 5 Lake, Blue 1 Lake.