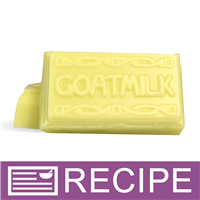 (Enlarge Image)
NOTE: If you are making these products for sale, good manufacturing practices recommend you wear a hairnet, gloves and a mask. We also recommend a clean apron and workspace.
To a heat safe pan, add beeswax and coconut oil. If coconut oil is solid in the bottle, place bottle in hot water until it becomes a liquid. Heat wax/oil over low heat until wax is completely melted.
Add 1 Tablespoon of Goat Milk Powder and whisk in until powder has dissolved. If necessary, place pan back on heat source to completely dissolve the powder.
Add Hemp Butter and stir until it has melted.
Add Hemp Seed Oil, Jojoba Oil, Vitamin E and the fragrance oil. Stir until well blended.
Once the liquid is below 150°F, it can be poured into the plastic mold. Set aside to harden. Can also be placed into freezer to harden.
Once removed from mold, let completely harden for about 24 hours before cutting into rectangles. Bars will be too soft if cut sooner.
Place one rectangle in a 4 oz. shallow tin and label as desired.
To Use
: Rub lotion bar over skin as needed.
WARNING: Do not leave in hot car or purse during summer months.
Ingredient Label:
Beeswax, Coconut Oil, Hemp Seed Oil, Hemp Seed Butter, Jojoba Seed Oil, Goat Milk, Fragrance, Vitamin E.