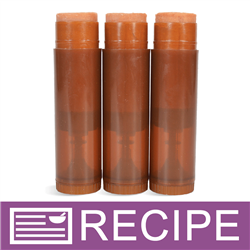 (Enlarge Image)
NOTE: If you are making these products for sale, good manufacturing practices recommend you wear a hairnet, gloves and a mask. We also recommend a clean apron and workspace.
To a heat-safe pan, add 0.50 oz. Beeswax and 2 oz. Shea Butter. Heat on stove top over low heat until melted.
Add 0.50 oz. Castor Oil and 2 ml Vitamin E. Stir to mix in well.
Add 1/2 tsp. Hammered Copper Mica Powder and mix well with wire whisk. Add more if darker color is desired. Shade can be verified by placing a spoon into hot mixture and carefully applying to skin to check shade.
Let mixture thicken slightly. Stir to mix in mica before pouring. Mixture needs to be blended well to be sure mica powder is fully incorporated. If necessary, place on heat source briefly to liquify mixture if it thickens too much.
Fill each tube to the top. Any leftover product can be remelted to fill in sink holes or to top off the tubes.
Let completely set before applying caps.
Repeat above steps to make second set of 6 highlight sticks. This recipe is done in small batches to help keep the mica suspended.
Label product accordingly.
To Use: Apply to skin as desired.
If fragrance is desired, add between 2-2.5% which would be 0.12-0.15 oz. per batch.
Ingredient Label:
Shea Butter, Castor, Beeswax, Mica, Vitamin E, Iron Oxides.