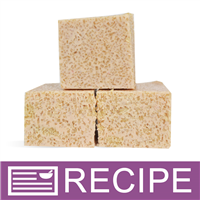 (Enlarge Image)
NOTE: If you are making these products for sale, good manufacturing practices recommend you wear a hairnet, gloves and a mask. We also recommend a clean apron and workspace.
To large microwave-safe bowl, add cut up White Soap. Heat in microwave until soap has melted.
Add Foaming Bath Whip and stir into soap. Heat for 30 more seconds if bath whip has not melted in.
Add Grapefruit Lily Fragrance Oil and pink mica powder* and blend until powder is incorporated.
Add brown sugar and mix well with spoon or spatula.
Pour product into 8 of the silicone soap mold cavities. Mix product between pours to keep the ingredients blended. Spritz the top of each cavity with rubbing alcohol after pouring to release any surface bubbles.
Place the molds in the freezer for about 1 hour to harden. If placing in the refrigerator, leave in for about 2 hours to harden.
Once soap has completely hardened, carefully remove each soap from its cavity.
Cut each square into 4 sections. You should have 32 sugar cubes when finished.
We packaged 3 cubes in a cello bag one on top of the other (one bag will have only 2 sugar cubes). Fold the top over and fasten with tape. Add some ribbon or piece of raffia to the top of the bag.
Label product accordingly.
To Use: Lather with warm water and use to exfoliate rough skin areas.
* On 9/18/19, Neon Coral and Cocktails Powder was changed to Pink Watermelon Infusion Mica Powder due to discontinued product.
Ingredient Label:
Brown Sugar, Sorbitol, Propylene Glycol, Glycerin, Water, Sodium Laureth Sulfate, Sodium Cocoyl Isethionate, Stearic Acid, Lauric Acid, Sodium Hydroxide, Sodium Chloride, Fragrance, Titanium Dioxide, Diazolidinyl Urea, Iodopropynyl Butylcarbamate, Fragrance, Yellow 10, Red 28, Red 22.