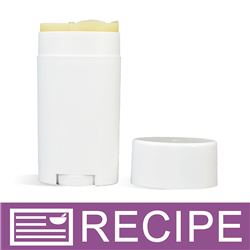 (Enlarge Image)
NOTE: If you are making these products for sale, good manufacturing practices recommend you wear a hairnet, gloves and a mask. We also recommend a clean apron and workspace.
In metal pot, add lotion bar additive, candelilla wax, jojoba and aloe vera oils. Heat on low until completely melted.
Add shea butter. Stir to melt.
Using a wire whisk, blend in small amounts of Slick Fix until fully blended and smooth.
Add Vitamin E and fragrance and stir well.
Pour into lotion bar tubes filling to the top. Let completely cool, then add caps.
Label product accordingly.
To Use:
Apply to dry skin as needed.
WARNING:
Following application, feet may be slippery.
Ingredient Label:
Candelilla Wax, Jojoba Oil, Mineral Oil, Coconut Oil, Aloe Vera, Shea Butter, Polyglycerol-3 Beeswax, Tapioca Starch, Fragrance, Vitamin E.