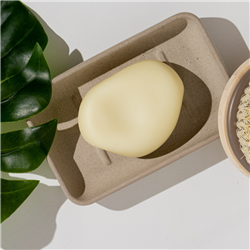 (Enlarge Image)
NOTE: If you are making these products for sale, good manufacturing practices recommend you wear a hairnet, gloves and a mask. We also recommend a clean apron and workspace.
In a dedicated pot and on low heat, add Kokum Butter and Cera Bellina Wax. Melt over low heat on stove top or over water in double boiler until melted.
Remove from heat and add Apricot Kernel Oil, Evening Primrose Oil, Tamanu Oil, Meadowfoam Seed Oil, Grapeseed Oil, Macadamia Nut Oil, and Rose Hip Seed Oil. Stir and mix in well.
Add Vitamin E T-50 and Coconut Sugarcane - Natural Fragrance Oil 202. Mix well.
Return to low heat until fully melted.
Place silicone mold on a cookie sheet and pour melted liquid into each cavity until full. Mold can be placed in refrigerator or freezer to speed up process.
Once hardened, unmold and package as desired.
Remelt remaining batch and repeat steps 5-6 as needed.
Package in 08 oz Black Double Wall Plastic Jar - 89/400 with 89/400 Black Dome Top Cap - No Liner.
Label product accordingly.
To use:
After washing hands, glide lotion bar across face, gently massaging into skin.
Note:
If shipping items in very warm weather, you may add 4.0-7.0 oz Carnauba Wax to prevent melting.
Ingredient Label:
Kokum Butter, Cera Bellina, Apricot Kernel Oil, Evening Primrose Oil, Grape Seed Oil, Meadowfoam Seed Oil, Tamanu Oil, Macadamia Nut Oil, Rose Hip Seed Oil, Vitamin E, Fragrance