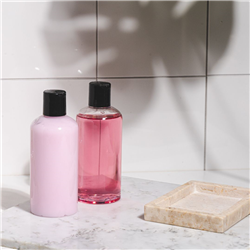 (Enlarge Image)
NOTE: If you are making these products for sale, good manufacturing practices recommend you wear a hairnet, gloves and a mask. We also recommend a clean apron and workspace.
To Make Lotion: In a large glass bowl, empty 64 oz. of lotion. Heat in microwave for 1.5 minutes or until lotion has thinned but not like water.
To warmed lotion add 1.0 oz. fragrance oil. Mix in well.
Add drops of Red Liquid Color until desired shade is reached. Mix well until color is incorporated into lotion.
Immediately, while lotion is still warm and mostly liquid, fill bottles to 8.5 oz. by weight.
For ease in filling bottles, pour lotion into piping bags or zip lock bags. Cut tip off and fill bottles with lotion.
Let lotion cool completely before capping the bottle.
Repeat for remaining 64 oz. of lotion.
To make Shower Gel: Pour 64 oz. of shower gel into a large glass measuring cup.
Heat in microwave for 1.5 minutes or until shower gel has thinned.
Add 0.50 oz. of fragrance oil. Stir gently so as not to create too many bubbles.
Add drops of Red Liquid Color to shower gel until desired color is achieved. Mix well.
Immediately pour shower gel into bottles, filling to 8.5 oz. by weight. Leave caps off bottles until product has cooled completely.
Repeat above steps to fill remaining bottles.
Once product has cooled, place caps on all the bottles.
Package one lotion and one shower gel in cello bags and tie with ribbon of choice.
Add a label or tag to the packaging and you're set!
To Use: Massage onto wet skin. Rinse well with warm water. Rub lotion into dry skin as needed.
Ingredient Label:
SHOWER GEL: Water, Sodium Laureth Sulfate, Sodium Lauryl Sulfate, Cocamide MEA, Cocamidopropyl Betaine, Methylparaben, Methylchloroisothiazolinone,Methylisothiazolinone, Citric Acid, Sodium Chloride, Fragrance, Propylene Glycol, Methylparaben, Red 33. LOTION: Water, Cetearyl Alcohol, Glyceryl Stearate,Polysorbate-60, Stearyl Alcohol, Sunflower Oil, Allantoin, Propylene Glycol, Isopropyl Palmitate, Petrolatum, Diazolidinyl Urea, Methylparaben, Propylparaben, BHT, Carbomer, Benzophenone-4, Stearic Acid, Fragrance, Red 33.