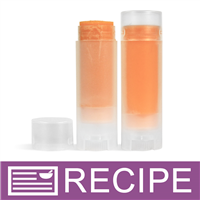 (Enlarge Image)
NOTE: If you are making these products for sale, good manufacturing practices recommend you wear a hairnet, gloves and a mask. We also recommend a clean apron and workspace.
To Mix and Pour Funnel, add Castor Oil, Pumpkin Seed Oil and Smooth & Creamy Lotion Bar Additive.
Heat in microwave in 30 second increments until the lotion bar additive has completely melted.
Add Macadamia Butter Blend and stir in until it has melted.
Add Shea 50 and stir. Mixture may need to be heated a little more until it is entirely liquid.
Add Vitamin E, Pumpkin Spice Natural Fragrance Oil and Granulated Sugar. Mix well.
Add (4) micro size scoops of Adobe Orange Mica Powder and (1) micro size scoop of Gingerbread Brown Mica Powder to the mixture and stir until completely blended.
Immediately pour into the (29) 0.15 oz. Natural Oval Lip Tubes. The lip balm may need to be reheated slightly if it starts to harden.
When product has completely cooled, place cap on top.
Label product accordingly.
To Use: Apply to lips as needed.
Ingredient Label:
Macadamia Butter, Castor Oil, Pumpkin Seed Oil, Polyglycerol-3 Beeswax, PEG-50 Shea Butter, Vitamin E, Fragrance, Sugar, Mica, Titanium Dioxide, Iron Oxide.