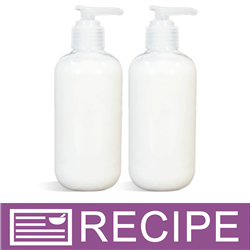 (Enlarge Image)
NOTE: If you are making these products for sale, good manufacturing practices recommend you wear a hairnet, gloves and a mask. We also recommend a clean apron and workspace.
To mixing bowl, add body cream. Heat in microwave for 90 seconds.
To plastic beaker, add geranium hydrosol, glycerin and fragrance oil. Gently stir to incorporate ingredients.
Using pastry bag, fill each bottle with 8 oz. by weight. Let cool.
Trim dip tubes to fit bottles. Insert and tighten.
Label product accordingly.
To Use:
Rub into skin as needed.
Ingredient Label:
Water, Stearic Acid, Propylene Glycol, Isopropyl Palmitate, Cetyl Alcohol, Glycerol Sterate, Lanolin, Polymethoxy Bicyclic Oxazolidine, Geranium Water, Fragrance, Mineral Oil & Lanolin Alcohol, Allantoin, Glycerin, Tocopheryl Acetate, Aloe Vera Gel, Methyl Paraben, Urea, Potassium Hydroxide, Chloroxylenol, Propyl Paraben, Sodium Hydroxide.