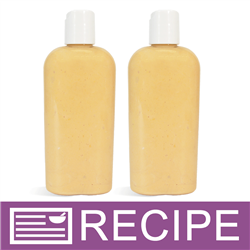 (Enlarge Image)
NOTE: If you are making these products for sale, good manufacturing practices recommend you wear a hairnet, gloves and a mask. We also recommend a clean apron and workspace.
In a large glass measuring cup, pour out 32 oz. of the Basic Lotion.
Place in microwave and heat for about 1-2 minutes, taking out after 1 minute to stir. Product should thin out and become pourable, but DO NOT BOIL.
To the thinned out lotion, add 0.70 oz. of fragrance oil. Stir gently to incorporate.
Add 2 teaspoons of the Sparkle Dark Gold Mica Powder and stir until completely blended in.
Pour into 7 lotion bottles. If lotion is too thick to pour, add lotion to a pastry bag or zip close page. Cut the tip off and fill bottles in this mannner. Product does not have to be thinned for this.
Continue with another 32 ounces of lotion and follow above steps.
If using a pastry bag to fill bottles, a larger amount of lotion can be made at a time. If heating and thinning product, it is easier to make smaller batches for ease of pouring into bottles.
Continue until desired amount of lotion has been made. Let lotion completely cool before applying caps.
Label product accordingly.
To Use: Rub into skin as desired.
Ingredient Label:
Water, Cetearyl Alcohol, Glyceryl Stearate, Polysorbate-60, Stearyl Alcohol, Sunflower Oil, Allantoin, Propylene Glycol, Isopropyl Palmitate, Petrolatum, Diazolidinyl Urea, Methylparaben, Propylparaben, BHT, Carbomer, Benzophenone-4, Stearic Acid, Fluorphlogopite, Titanium Dioxide, Iron Oxide.