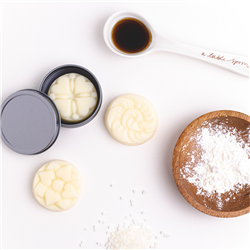 (Enlarge Image)
NOTE: If you are making these products for sale good manufacturing practices recommend you wear a hairnet, gloves and a mask. We also recommend a clean apron and workspace.
To a heat safe pan, add Macadamia Nut Butter, Kokum Butter and Beeswax. On medium to low heat, heat until wax has completely melted. Turn off heat.
Add the Jojoba Oil and Vitamin E and mix well. If mixture should start to cool or thicken, place back on heat source to melt.
Add 1 teaspoon of Tapioca Starch. Stir in and make sure all of the clumps are out.
Add 3.5 ml of fragrance oil and mix in.
When temperature of product cools to 145°F, pour into the 5 cavities. Do not fill completely to the top. Place the mold into the freezer for about 30 minutes. Unmold once they have hardened.
Place 1 lotion bar into 1 silver metal tin.
Label product accordingly.
To Use
: Rub onto skin as desired.
Ingredient Label:
Macadamia Butter, Beeswax, Kokum Butter, Tapioca Starch, Jojoba Oil, Fragrance, Vitamin E.