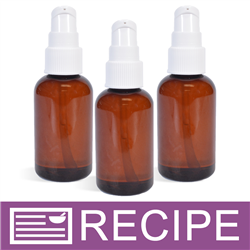 (Enlarge Image)
NOTE: If you are making these products for sale, good manufacturing practices recommend you wear a hairnet, gloves and a mask. We also recommend a clean apron, workspace and sanitized equipment.
In a measuring cup with a spout, add oils, ROE, and botanical extract blend 2.
Stir well.
Pour 2 ounces into each bottle.
Clip dip tubes to proper length and apply cap.
Label accordingly.
To Use: Rub a small amount onto skin in an upward motion.
Ingredient Label:
Jojoba Oil, Medium Chain Triglycerides, Meadowfoam Seed Oil, Hemp Seed Oil, Rosemary Oleoresin Extract, Sunflower Oil, Calendula Extract, Sunflower Extract, Aloe Extract, Irish Moss Extract, Marshmallow Extract.