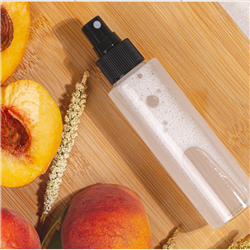 (Enlarge Image)
NOTE: If you are making these products for sale, good manufacturing practices recommend you wear a hairnet, gloves and a mask. We also recommend a clean apron, workspace and sanitized equipment.
On a scale, pour 16 oz of Luxury Moisturizing Mist II - Modified into a measuring cup.
Add 1oz caffeiene extract and 0.5 fragrance oil, and stir completely.
Pour evenly into each bottle, trim dip tubes to length and cap.
Label accordingly.
To Use: Mist over face to refresh and soothe skin any time of day.
Ingredient Label:
Water, Octoxynol-13, Nonoxynol-12, Propylene Glycol, Glycerin, Methylchloroisothiazolinone, Methylisothiazolinone, Coffea Canephora Seed Extract, Sodium Benzonate, Potassium Sorbate, Citric Acid, Fragrance.